Flashback – Aug 2006. One year into my post-MBA job, just married and can't wait to buy my first car. The midrange options at the time are the long running Maruti Baleno, Swift, Hyundai Accent, Tata Indigo, Honda City and a couple of others. And the newly launched Ford Fiesta. The fiesta looks good, is priced well and is the latest kid on the block.
So I buy it. The 1.6 Sxi from Harpreet Ford in Gurgaon. I go with the cherry color (Paprika red) that's available immediately. I'm so excited about it that I don't really haggle for any deals from the dealer at all (no car covers/extended warranty, discounts, lower interest rate  etc – hey, they did give my wife a rose bouquet after our purchase!). I love the car! After having had a Maruti 800 for 8 years, this is such a dream (power windows?? woooo!).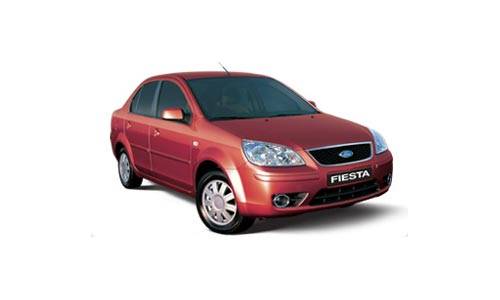 The car drives great, and my dad loves the surprise. We make sure we do all the regular servicing at .. who else.. Harpreet Ford!
Cut forward 8 months to summer of 2007.
I'm doing 70 kph or so in the Fiesta on the Dehradun highway. Just as we hit the 'Mohand' forests, the AC conks out – so we need to open the windows in the searing afternoon heat. We're still getting along when suddenly, the car begins to grind. I'm pressing the pedal and NOTHING'S happening (no engine roaring, no acceleration) and the car is hurtling forward on its own. I pull over to a side, wait 5 minutes and try re-starting the engine. It starts and we're on our way again. Until 5 mins later when the same happens and we again need to stop and cool down. This goes on, until we drag our way through the mountain roads at 15 kph with no AC and finally make it to our destination.
It is at this point that I should insert this Ford one-liner -
How is a golf ball different from a Ford? You can drive a golf ball 200 yards!
In Dehradun, we take the car to the local Ford workshop – the guy gives the car a look, gives us a look, decides we're good for a couple of thousand bucks and lets us out after we've paid him the requisite amount and had our coolant changed (With official Ford coolant of course – no other coolant will do even if they're from leading coolant manufacturers).
After we come back to Delhi, we get a servicing done at Harpreet Ford, who tell us nothing is wrong while ensuring our maintenance bill stays as close to the well rounded figure of 5000 as possible.
Summer of 2008 – the entire sequence is re-enacted on our way to Dehradun again. This time the entire family experiences it, and we're forced to add a Castrol coolant because, well, there's no Ford certified service center outside of the major towns.
Again back in Delhi, Harpreet Ford finds no major issue and has no clue of the root cause. Of course the problem is un-replicable at their premises so we can't really prove it.
Summer of 2009 and 2010 – this happens again. Whether on the Jaipur highway, or in the city – the car just blanks out irrespective of the speed and needs to be pulled over. (A bit of googling will reveal that other customers have had the same issue with Ford cars – here's one link)
Go Fida with the Ford Service options, or Go Broke

Not only is this a complex defect in the car that puts the passengers at extremely high risk, the service center is also either unequipped or in denial or just plain careless about trying to fix it at the root cause. There were (at least until 2009), only two places you could go to get your Ford repaired in Delhi – Harpreet Ford in Gurgaon and Moti Nagar, and another dealer in Noida (can't remember the name – was it South City ford?). The alternatives are non-Ford-authorised service centers.
Also with the Ford you're required to only use the Ford engine oil and other paraphernalia – which are costlier than the usual market options (average servicing costs Rs 4000 approx – I was shocked to learn that my friend with an SX4 got his servicing done in about Rs 800!). All this means you're locked in to one dealer and his practices. At Harpreet Ford, that usually means getting a service quote with items you don't understand, leaving your car with them for a couple of days and no opportunity to look at it while its being worked on, and then receiving your car with no one to explain what was done on it. Payment in advance, thank you very much.
Once, after we got our rear door repaired at Harpreet Ford after a small accident, they fixed it after we reminded them by tying up the old wire that connects the handle to the door latch. Which broke in a couple of days when we got back home. Worse, the front power windows button on the driver side, which had no issue at all, started behaving erratically.
On another occasion, our battery died overnight possibly because some lights were left on (we never found out why actually – because the internal electricals usually fade out after the car is locked up from outside). When we took our car to Harpreet Ford, we were told that the car computer (ECU) was damaged and needed to be replaced – setting us back by a cool Rs 40,000 approx!!! Worse, while the car was being inspected in the Harpreet Ford Moti Nagar lot, they got some scratches on the rear wheel rim and broke the pullout bonnet opener  – and wouldn't take responsibility for it!
By this time we had had it with Harpreet Ford and stopped dealing with them – instead we now get our car serviced at Bosch Service Center Rajouri Garden – where we can at least see what's being done to our car and get the full range of service by Bosch certified mechanics. Way more transparent and satisfactory.
No resale value
Sorry I should re-do that headline. A Ford does not have zero resale value – it has a negative resale value. Since the last 2 years, any quote I got on this car did not even cover the outstanding on the loan. With the new models being priced even more aggressively by Ford and bundled with features like an MP3 player, it only means you're forever stuck with the Ford.
The sorry tale continues…
Apart from the issues above, many other defects have surfaced through the years -
2008 – The  engine started misfiring – needed a Rs 1000+ replacement (i think it was this sparkplug component)
2009 – The dashboard speedometer and odometer stopped working – the speedometer will simply die down and start working randomly.
Every summer the AC needs the gas refuelled, or its tubing changed. In any case it works subpar compared to other cars
Wheelplates – Ford wheelplates are clamp-ons, not screwed in to the wheel – which means every year you lose a couple to burglars or if you hit a really bad pothole. The company sells sets of 4 at Rs 500 per wheelplate – outside you can buy a set of 4 at about Rs 700.
2010 – Two new problems for 2010! The front axle now makes a sound (like metal pipes falling over one other) while making turns or going over potholes in the road – it appears the axle connection to the wheel has gone out of sync, and requires the axle to be replaced at about Rs 20,000 from Ford. Second, the driver door key lock has stopped working – I can lock it but I can't unlock from that side, so I need to unlock every time from the passenger side. I'm not even thinking of getting this repaired until I absolutely need to – because I vaguely remember the service center telling me that the locks are all computerised and I will need to change the whole set at a cost of roughly Rs 20,000!!
In general, the car needs frequent servicing – best is every 3 months – if you top 5 months or so without servicing, it starts showing in the performance
Ford
The service network and most importantly, the fundamental flaws in the ford fiesta have all added up to a HUGE DISAPPOINTMENT for me and my family, and mean that not only will I never buy a Ford myself ever in the future, I will also recommend strongly to anyone I know that they avoid touching a Ford even with a 30 foot pole.
Unless of course, its my Ford they're helping push.
—–
PS – Ford Jokes on the post are from this page. Also to mention, the silver lining in the Ford Fiesta experience was the service I received from ICICI Lombard – with claims being handled quickly and with minimal hassles.